Eradicate Lionfish and Save the Reefs!
Want to vacation for a cause?
Learn how to spend a week on vacation and Do Something Now ​to help fight the invasive Lionfish!

Join

on Saturday, June 9th
at the
Dive Expo!
Learn about ReefSave, how to help fight the Lionfish invasion and where to volunteer this summer!
Invasive Lionfish
The Indo-Pacific lionfish is an invasive species in the Atlantic Ocean & Caribbean Sea. Lionfish are predators with a voracious appetite, no natural predators, and a rapid rate of reproduction. They are destroying the natural balance of the reefs by over consuming reef fish and juveniles, threatening marine life and the reef itself.
ReefSave Mission
To do scientific research, education, and training to implement strategies  that protect Western Atlantic and Caribbean reefs from loss of marine life, through practical implementations that create economic benefits for practices that promote self-sustaining long term reef health. The mission applied to Invasive Lionfish Problem is set forth in the The Plan
ReefSave Goals
To facilitate NOAA approval for lionfish traps. Help those outside of the U.S. make a living taking lionfish from the ocean. Provide support, training, and public awareness of the Lionfish Problem.
To learn more about Reefsafe please visit their website!
Want to learn more about the Dutch Springs Dive Expo?  Click below for the Dive Expo Page!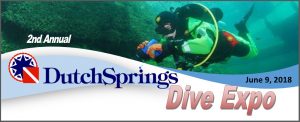 Comments
comments