Start Your Rebreather Adventure Now!
Think a rebreather is only for technical divers?
Want to see one up close and in action?
Join

on Saturday, June 9th
at the
Dive Expo!
Learn what's new and talk to KISS experts about rebreathers!
What is a rebreather?  How does it work?  Which one is for me?
Try before you buy!! David Oldham will have KISS Units for you to try out. Come learn what rebreathers are all about and see some of the latest gear. Contact David for more info @DavidaOldham@gmail.com
Want to learn more about the Dutch Springs Dive Expo?  Click below for the Dive Expo Page!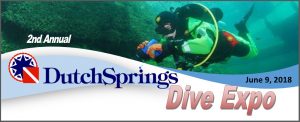 Comments
comments