Have a DUI Drysuit and miss the DOG Rally's and Demo Days?
Don't have a drysuit but want to test dive one?
Join

on Saturday, June 9th
at the
Dive Expo!
Learn what's new, demo drysuits and talk to DUI experts about your custom drysuit!
WHAT IS A DRYSUIT?  HOW DOES IT WORK? WHICH ONE IS FOR ME?
Working with the DUI dealers in the area, DUI will fill their area with equipment designed and manufactured by DUI, the world's leader in drysuits. Come prepared with your regular dive equipment except for your suit. After you go through registration, they will fit you with everything you need to dive dry, warm and comfortable. You'll go in the water with a dive leader (no need to be drysuit certified) who will show you the basics on how to use a drysuit.
MEET THE DUI TEAM
Each event is staffed with DUI Factory Professionals. Whether you want to try drysuit diving for the first time, a DUI drysuit in particular or the best insulation to keep you warm under your drysuit, the DUI area at the Dive Expo is the perfect place for you! 
Want to learn more about the Dutch Springs Dive Expo?  Click below for the Dive Expo Page!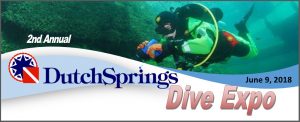 Comments
comments